Welcome to www.banbloodsports.com
Irish Council Against Blood Sports
Gaelcomhairle in Aghaidh Fuilsport
PO Box 88, Mullingar, Co Westmeath, Ireland
Tel: 044-93 49848. Mobile: 086-2636265.
Textline: 086-0386617 - Text "GO" to receive occasional updates

Witness the cruelty of blood sports in Ireland
| | | |
| --- | --- | --- |
| | | |
| Foxhunting | Hare coursing | Mink hunting |
To witness the appalling cruelty of hare coursing, foxhunting and mink hunting, please click on the video links above. For more presentations exposing blood sports in Ireland, visit our Videos Page. Help highlight our campaigns by displaying the videos on your website. Thank you.
Watch ICABS campaign videos on our online channel ICABS TV




WATCH: Dail debate today on €96 million funding for horse and greyhound racing

The proposed approval by Dail Eireann of the €96 million Horse and Greyhound Racing Fund Regulations 2020 will be debated in Dail Eireann today, 1st December, at 4.09pm. The Fund will grant another €19.2 million to greyhound racing and €76.8 million for horse racing. Watch the debate live on Oireachtas TV or online at https://www.oireachtas.ie/en/oireachtas-tv/dail-eireann-live/

Cruel Fox Hunting: "No plans to change the existing legislation" - Agriculture Minister

"My Department has no plans to change the existing legislation" - Minister for Agriculture Charlie McConalogue dismissing the latest call for cruel foxhunting to be banned in Ireland. More...

Senator Boylan questions Agriculture Minister about those running "greyhound care centre"

Sinn Féin Senator Lynn Boylan has asked the Agriculture Minister to confirm that nobody involved in a new Greyhound Racing Ireland-funded "greyhound care centre" in Tipperary has "exported [greyhounds] to countries that do not have adequate welfare standards". More...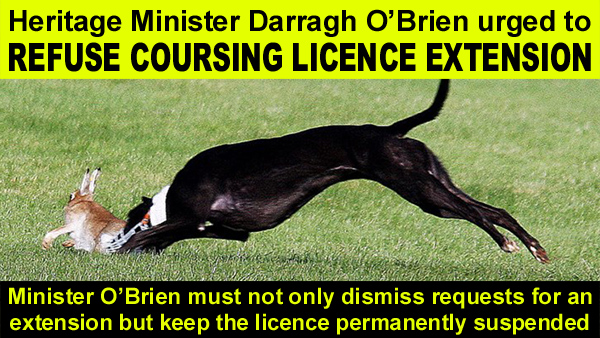 Heritage Minister Darragh O'Brien urged to refuse coursing licence extension

Hare coursers are currently lobbying Heritage Minister Darragh O'Brien to allow them to extend their season of animal cruelty into the month of March. The coursers are seeking an extension to compensate them for coursing being halted for six weeks up until at least 1st December due to Covid19 restrictions. Minister O'Brien must not only dismiss any requests for an extension but keep the licence permanently suspended. More...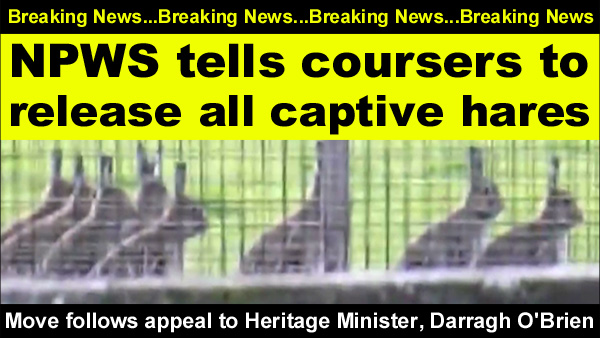 NPWS tells coursers to release all captive hares

ICABS understands that the National Parks and Wildlife Service has written to the Irish Coursing Club, telling them to release all hares in captivity. The move follows last week's announcement that coursing was to be stopped for six weeks, in line with COVID19 Level 5 restrictions. More...

TIME TO BAN ALL BLOODSPORTS

"Coursing and foxhunting are stains on the countryside that make a mockery of our wildlife protection laws. It's time we added them to the list of banned blood sports" - Read John Fitzgerald's Letter to the Editor in the Irish Examiner. More...

COVID-19: Government must stop hare coursing and foxhunting

The government is being urged to act in the interests of slowing the spread of COVID-19 and stop all hare coursing and foxhunting. Despite increasing infections and deaths and nationwide Level 3 restrictions, the bloodsports brigade are determined not to let a pandemic get in the way of their shameful activities. More...

Follow the ICABS campaign on Facebook
Follow the ICABS campaign on Facebook for all the latest news, updates and action alerts. Help spread the word about our campaign issues by sharing our posts with your friends More...

Greyhound industry horrors: Join calls for an end to government funding

Watch "RTE Investigates: Greyhounds running for their lives" and join calls for an immediate end to all state funding to the cruel greyhound industry and a ban on greyhound racing and hare coursing. More...

Cruel coursing: Hare desperately jumps into the air to escape

A hare desperately jumped into the air in an attempt to escape from greyhounds during a shameful coursing meeting in Sevenhouses, County Kilkenny. At the bloodsport event, held in January, 4 hares died. More...

Hundreds of horses are dying at races around Ireland
Hundreds of horses are dying at races around Ireland, shocking new statistics reveal. The damning "equine fatality" figures - released for the first time ever this month - finally lift the lid on the appalling level of suffering and death in horse racing. More...

At least 2,649 greyhounds destroyed in Irish pounds since 2010
At least 2,649 greyhounds have been destroyed in Irish pounds in the past eight years, shocking statistics reveal. The dogs are just some of the many victims of the cruel greyhound industry. More...

Videos: Ireland's hare coursing cruelty
Witness the cruelty of hare coursing in Ireland in our Youtube video playlist which shows hares being hit and mauled. After watching, please join the campaign against this deplorable bloodsport. More...

Say NO to Ireland's cruel blood sports
Join calls for a ban on Ireland's cruel bloodsports. Please sign and share our petitions and urge your local politicians to back a bloodsports ban. Sign Now!
Please make a donation to ICABS
Please consider making a donation to the Irish Council Against Blood Sports this month. We rely entirely on the generosity of our supporters to help ensure that our campaign goes from strength to strength. To make a donation today, click on the Paypal logo to the left or visit our Join ICABS page. Thank you very much.
Latest News | Campaigns | Newsletters | Leaflets | Join ICABS | Letter Writing | Videos | Gallery | Donate
Politicians | Farmers | Petitions | Links | Contact Us | Downloads | Mobile | Shop | Search | Home
---
Designed by PhilipKiernan
Last Updated: December 2020