Limerick veterinary surgeon sponsors hare coursing
18 December 2015
We've had a Dundalk vet sponsoring a hare coursing event ("Ancu Veterinary Hospital Oaks Trial Stake...kindly sponsored by vet Brian Jones"), a veterinary nurse acting as a judge at a coursing meeting (Orlaith Farrelly at Westmeath United coursing), an FBD Insurance 'equine specialist' vet (Ian Brassil) at a Clare foxhunt and a vet in Limerick (Tommy Kearney) claiming that coursers "hold the welfare of the Irish hare very close to their hearts". Now, we can reveal another.
According to a booklet for a hare coursing meeting in County Limerick in November, "John Garrihy Treaty Veterinary Clinic Limerick" not only sponsored the Oaks Trial Stake coursing event but was also set to present a cup to the owner of the winning greyhound. The Treaty Veterinary Clinic outlines that "John has lectured extensively at University of Limerick, in particular on Canine Husbandry and Equine Science (B.Eq.Sc). He has been nominated on a number of occasions for the Stronghold Pet Care Award. His particular interest is in canine and feline medicine and the injuries of the racing greyhound."
It's outrageous that members of the veterinary profession are continuing to openly support and participate in activities which cause injury and/or death to defenceless creatures.
ACTION ALERTS
Join us in once again urging the Veterinary Council of Ireland to act to end vet involvement in foxhunting and hare coursing.
Veterinary Council of Ireland
53 Lansdowne Road
Ballsbridge, Dublin 4
Tel: +353 (0) 1 668 4402
Email: info@vci.ie
Ask John Garrihy Treaty Veterinary Clinic to stop sponsoring hare coursing.
John Garrihy
Treaty Veterinary Clinic
High Road, Thomondgate, Limerick
Tel: 061 328511
Email: mail@treatyveterinaryclinic.com
Leave a comment on Facebook: https://www.facebook.com/Treaty-Veterinary-Clinic-10150144723750317/?v=wall&ref=ts
Contact Ancu Veterinary Hospital and ask them to stop sponsoring cruel hare coursing.
Mobile: 087 2540999
Tel: 042 9321915 (Louth) or 028 30252000 (Newry)
Email from: http://www.ancuveterinary.com/index.php/contact-us
Leave a comment on Facebook: https://www.facebook.com/pages/Ancu-Veterinary-Clinics/532268906802670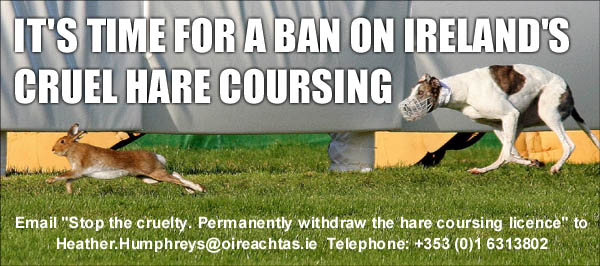 Urge Minister Heather Humphreys to show compassion for the persecuted Irish Hare and withdraw the coursing licence she issued.
Email "Stop the cruelty. Permanently withdraw the hare coursing licence" to Heather.Humphreys@oireachtas.ie, ministers.office@ahg.gov.ie, taoiseach@taoiseach.gov.ie, joan.burton@oireachtas.ie, wildlifelicence@ahg.gov.ie, Gerry.Leckey@ahg.gov.ie
Tel: (01) 631 3802 or (01) 631 3800
Leave a comment on Facebook - https://www.facebook.com/heather.humphreysfg
Tweet to: @HHumphreysFG

SAMPLE LETTER
(If you have time, please compose your own personal letter)
Dear Minister,

I am one of the majority who want hare coursing outlawed. I am writing to urge you to permanently withdraw the licence you issued to the Irish Coursing Club.

In coursing, hares suffer at all stages - during the capture, during the time they are kept in captivity and during the coursing meetings where they run for their lives in front of greyhounds. Among the injuries recorded are broken legs, damaged toes and dislocated hips. Every season, hare injuries and deaths are documented.

I ask you to please act on the wishes of the majority, show compassion and permanently revoke the licence.

Yours sincerely,

[Name/Location]
Express your support for a ban on coursing. Sign and share petitions
Stop Licensing Cruel Hare Coursing
https://www.change.org/p/minister-heather-humphreys-stop-licensing-cruel-hare-coursing
Save Irish hares from cruel coursing
https://www.change.org/en-GB/petitions/minister-simon-coveney-replace-hare-coursing-with-drag-coursing
Ban horrific hare coursing cruelty in Ireland
https://www.change.org/petitions/taoiseach-prime-minister-of-ireland-support-a-bill-to-ban-the-cruel-practise-of-live-hare-coursing-in-ireland
Stop sponsoring hare coursing in Ireland
http://www.change.org/petitions/stop-sponsoring-hare-coursing-in-ireland
Appeal to the Minister for Agriculture to remove an exemption for hare coursing from the Animal Health and Welfare Act.
Simon Coveney, TD
Minister for Agriculture
Agriculture House,
Kildare Street, Dublin 2.
Email: Simon.Coveney@oireachtas.ie
Tel: 01-607 2884 or LoCall 1890-200510.
Fax: 01-661 1013.
Urgently contact An Taoiseach Enda Kenny and ask him to back a ban on hare coursing.
An Taoiseach, Enda Kenny
Department of the Taoiseach,
Government Buildings,
Upper Merrion Street,
Dublin 2
Telephone: 01-6194020
Fax: 01-6764048
Email: taoiseach@taoiseach.gov.ie
Contact all your local TDs now. Demand that they urgently push for a ban on hare coursing and all bloodsports. Tell them you are one of the majority who want coursing banned. Remind them that coursing is already illegal in Northern Ireland, Scotland, England and Wales. Urge them to respect the wishes of the majority of the electorate and back a ban.
Find out their contact details
Please also arrange a meeting with your TDs at their local clinics.
Make a donation to ICABS
Please consider making a donation to ICABS. For more details, please click on the button below or follow this link to find out how to become a campaign supporter. Thank you.
---