Help keep illegal leghold traps out of Ireland
The Irish Council Against Blood Sports is calling on members of the public to do a nationwide spot-check to investigate the possible sale of illegal leghold traps. The call comes following an incident in Galway where a fox was found in agony in such a trap (see below for more details).
Help us to catch those who may still be selling these barbaric devices. Please have a look in local shops where these traps may be illegally for sale (general supplies stores, fishing and shooting supplies stores, hardware shops, builder providers, antiques stores, etc) to determine if these traps are available for sale anywhere. If you spot one on sale (or if you know of someone who is setting them), immediately contact the Gardai, your local wildlife conservation ranger or report it to ICABS.
Below is an image of a leghold trap [1] - also known as a gin trap. The bottom half of the image [2] shows the fully opened jaws of the trap. When an animal steps on the trap, the jaws snap shut with great force [3].
According to the Wildlife Act, 1976 (Approved Traps, Snares and Nets) Regulations, 1977, gin traps are classified as being unapproved, making it an offence to import or sell them.
Section 34 of the Wildlife Act, 1976 as amended by section 42 of the Wildlife (Amendment Act) 2000 also states that it is unlawful to import, offer for sale or sell such a trap.
The sale of leghold traps is also prohibited in the European Union. See Council Regulation (EEC) No 3254/91
Cat loses leg after being caught in illegal trap in Limerick housing estate
Limerick Post, September 4, 2014
by Alan Jacques
A family pet has had its leg amputated this week after being snared in a horrific steel jaw animal trap in a city housing estate.
Storm, a two-year-old cat that was adopted from Limerick Feral Cats as a kitten, is said to be "lucky to be alive" after being trapped in the spring-operated jaws of a gin trap in the Norwood Park/ Lynwood Park area of the city last Thursday. Gin traps have been illegal in Ireland under the the Wildlife Act of 1976 — almost 40 years ago.
The cat was allowed out for a run in the city estate last Thursday evening after its owner returned from a two-week holiday. The animal was later discovered around 10pm under a neighbour's car in a state of shock with something attached to its paw.
"I could not believe what I saw. She was hiding under my neighbours tree with this huge snare attached to her leg. We brought her out to our vet straight away and he was also very shocked to see this thing on her," the cat's owner told the Limerick Post.
"Storm was sedated and we needed two people to release the trap and free her paw. Her paw and pads felt very cold and the vet decided to keep her in overnight in the hope that the blood flow would go back into her paw and maybe save her leg. However, there was no blood flow or nerve reaction in the paw at all, so the vet advised to amputate her leg," she explained.
Storm's loving owner believes the animal would not have survived had it not been discovered by her neighbours in the Norwood Park/ Lynwood Park area of the city. In a desperate attempt to get home, the cat managed to scale a 3ft wall and tried to chew through the trap.
"We believe she did not get trapped very far from our house. She also had a bit of blood around her mouth, probably from chewing the wire attached to this snare. This trap was not just lying around, it was set deliberately. The person who did this has no morals, conscience or respect for anything living. This snare is barbaric. It causes a horrendous injury and in some cases death to an animal. A small child could have got her hand stuck in this trap," warned the upset pet owner.
Mary Mollica of Limerick Feral Cats deemed it "unbelievable" that anyone could be so "cruel and barbaric" as to set an illegal trap.
"This cat is so lucky to be alive. If this had been a stray cat or feral cat that had gotten trapped, it would have died a horrible death of pain and suffering wasting away under some bush," Ms Mollica predicted.
According to the Limerick Feral Cats spokeswoman, Limerick City and County Council now needs to start helping out with the funding for TNR (trap neuter return), to decrease the number of cats multiplying in the city and county.
"Maybe then cruel people won't take matters into their own hands. All ferals and strays come from unneutered tame cats which are left out by their owners. Poor Storm was not, she is a much loved cat and luckily her owner was willing to spend a huge amount to pay for her care. She had to have her leg amputated because of this which cost hundreds of euro too and she was in angonising pain," she concluded.
Gardai at Henry Street are now investigating the incident.
Below is a media statement issued by the Galway SPCA on Thursday, 21st August 2003.
The torture and death of a beautiful wild animal
A beautiful wild animal was tortured and subsequently destroyed in Galway this week.
Some caring members of the public alerted the Galway Society for Prevention of Cruelty to Animals (GSPCA) to a fox caught in a steel leg-hold trap in a field in Ballard near Barna church.
The members of the GSPCA who investigated had great difficulty finding the young fox as the poor animal was desperately trying to get away from the pain of the trap by dragging it behind him whilst he tried to scale a wall.
When the GSPCA caught up with the fox he was completely exhausted and covered in bluebottles and flies, which were attacking sores on his body brought about by the cruel trap and his attempt to escape.
The GSPCA brought the suffering animal to the vets, where he was destroyed due to his extensive suffering and injuries.
A humane end to an innocent life callously cut short by some cruel, despicable individual. And what of the countless other foxes, badgers, hares, rabbits, dogs, cats and birds who are never found until it is too late and who die an excruciating, slow death. It is common knowledge that many trapped animals will actually bite off their own leg to try to escape the horrible pain.
| | |
| --- | --- |
| | "Some ignorant people prefer to think of the fox as 'vermin'. He is no more vermin than any other wild animal eking out an existence where man has encroached upon his territory." (Alison Herbert, Chairperson, Galway SPCA). |
It is an offence under The Wildlife Act 1976 to hunt protected wild animals and birds. Some ignorant people prefer to think of the fox as "vermin". He is no more vermin than any other wild animal eking out an existence where man has encroached upon his territory and he is forced to venture further and further into our domesticated "civilisation" to survive.
Traps and snares are openly being sold in Galway city by licensed outlets.
The accompanying photographs say it all. A young animal terrified at the hands of man. A sentient being who has every right to co-exist on this planet alongside man. Man however feels he has dominion over animals - let's hope that one day man will recognise this as arrogant nonsense.
Let's hope also, that in the short term, people will do the right thing and come forward to the Gardai with information on who is setting these abominable instruments of torture.
Alison Herbert
Chairperson
GSPCA
The Galway fox with its paw crushed in the illegal leghold trap. The unfortunate animal was put down by a vet as a result of its injuries.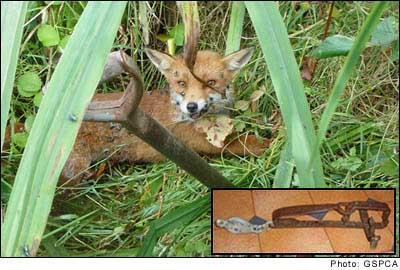 The fox lying in agony in the grass with the illegal leghold trap (inset) crushing his paw.
Cat killed in gin trap - Animal Watch 1997
A Wildlife Officer, acting on complaints from an animal welfare group, has confiscated illegal leghold traps being offered for sale in a Kilkenny antiques shop. The owner was ordered by Officer Padraig Comerford to stop selling the cruel traps because they are illegal under the Wildlife Act.
Leghold traps, also known as gin traps, are extremely cruel and capable of causing severe injury and death to animals.
ICABS has witnessed the damage leghold traps cause to animals. In one incident, a pet cat in Westmeath got caught in one of the traps and sustained injuries so great that its leg had to be amputated.
The cat arrived home to its owner in agony with the trap - weighing one and three quarter pounds - biting into its flesh. The unfortunate animal suffered extensive injuries to its skin and nerves and had to be rushed to the vet for attention. The cat's owner said that she suspected the traps were being used to cruelly catch rabbits and hares.
In another incident, a cat was found dead in a trap (see photo).
A cat which was found dead in a leghold trap.
Make a donation to ICABS
Please consider making a small donation to ICABS. For more details, please click on the button below or follow this link to find out how to become a campaign supporter. Thank you.